Common Parlance: Language and The New Coronavirus
April 24, 2020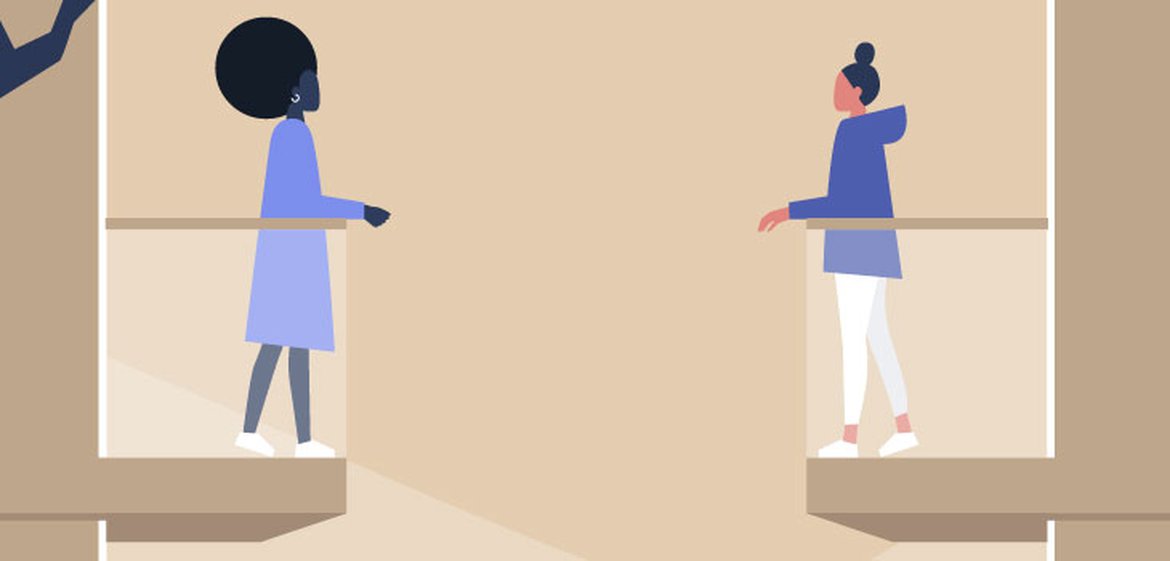 Despite all the daily death and destruction being wrought by COVID-19, I am often buoyed by how innovative and resourceful we humans are.

Can't meet in person? No problem. We've got Zoom and FaceTime and the good old-fashioned telephone for that.

Short on hand sanitizer? Brewers and distillers have stepped up and stepped in to meet the demand. Need masks? Legions of at-home folks with sewing machines are whipping them up as I write. What about ventilators? Engineers and architects with 3-D printers to the rescue.

For some particularly heart-warming bursts of creativity – from ordinary people like you and me – you need only take a short stroll through YouTube. There, an entire British family – Mum, Dad and four kids - shares its coronavirus parody set to "One More Day" from Les Misérables. Another set of parents (Scottish this time) choreographs a special night out at "Mummy and Daddy's Restaurant" for their two adorable little boys. And a charmingly Zen talking dog (a Montrealer, I believe) gives us "two-leggeds" advice on how to chill at home.

As a word nerd, I'm particularly interested in how quickly we have all adopted the language of the new coronavirus. In mere months, the pandemic has ushered in a whole new global vocabulary.

Social distancing is perhaps the most obvious example. Three or four months ago, the only people talking about "social distance" were sociologists. My research tells me that the concept dates back to 1890s Berlin and German sociologist Georg Simmel. Simmel's work was further developed by Emory Bogardus, a notable American sociologist who founded and chaired the sociology department at the University of Southern California from 1915 to 1946.

However, the work of Simmel and Bogardus (who developed the aptly named Bogardus Social Distance Scale) had nothing to do with preventing the spread of infectious diseases. Rather, social distance was used by these and other sociologists to refer to the degree of acceptance or rejection of social interaction between individuals, and especially those belonging to different classes, races, genders or ethnicities.

A fun side fact: Just as we're all now donning masks in public to stop the coronavirus from spreading, fashion was used in the past as a tool to create barriers of a different sort.

In her article, The Fashionable History of Social Distancing, Einav Rabinovitch-Fox, Visiting Assistant Professor at Case Western Reserve University, writes that the crinoline, the "large, voluminous skirt, which became fashionable in the mid-19th century, was used to create a barrier between the genders in social settings."

Rabinovitch-Fox explains that these voluminous skirts became a marker of class. "Only those privileged enough to avoid household chores could wear them; you needed a house with enough space to be able to comfortably move from room to room, along with a servant to help you put it on. The bigger your skirt, the higher your status."

But I digress.

As the new coronavirus has continued to grip our world, "social distancing" has given way to "physical distancing" – considered by many to be a more accurate term and a more palatable practice. However, "physical distancing" does not appear to have stuck quite as well. We'll consider why in a minute.

Self-isolation is another term that is now firmly lodged in our lexicon. Initially, this was recommended only for travelers returning home from a foreign country, but as community transmission increased, anyone not deemed an essential worker was urged to simply STAY HOME.

Like "social distancing", the phrase "self-isolation" has morphed in some quarters to "shelter-in-place." This, like "physical distancing", seems more accurate for the healthy majority, but, again, like "physical distancing", it does not appear to have gained the same traction.

Of course, we're all Zooming these days, and along with all those Zoom calls, has come Zoombombing – the practice of raiding private videoconferences to do anything from disrupt the meeting to abuse, harass or spread hate speech.

While Zoom has now upped its security measures, if you happen to be the unlucky victim of a Zoombombing, you have my full permission to seek out a nerve-calming quarantini or coronarita.

So, what do the new words of the new coronavirus tell us about language – beside the obvious fact that it is constantly evolving? If, as Margaret Atwood has said, that "a word after a word after a word is power", then are some words more powerful than others?

Powerful language, language that is likely to persuade, inspire and get your message across clearly, has these three qualities.

1. It is consistent. It's no surprise that we are all fully conversant with the language of the new coronavirus: For the past few months, we've seen and heard these words and phrases over and over and over again, every waking hour of every single day. I think it's safe to say that a majority of us have even become familiar with the more scientific and medical terms like fomites, contact tracing and super-spreader.

When you reflect on the depths to which coronavirus language has permeated our everyday lives, you can begin to appreciate just how much it normally takes to break through the clutter. To get your message to stick, you have to repeat it over and over and over again. One and done might work for a cast-iron frying pan, but it won't cut it for marketing messages.  

2. It is concise. Compare self-isolation and shelter-in-place. Shelter-in-place is a slightly more complicated phrase. Self-isolation is two words, shelter-in-place is three; self has one syllable, shelter two. And, yes, isolation does have three syllables, but the multi-syllabic word comes at the back end of the phrase so that somehow makes it easier to wrap our tongues around it.

Similarly, while social distancing and physical distancing are both two-word phrases, physical is three syllables, making it just that little bit longer and, by extension, perhaps less memorable. Social distancing was also first – first in, best dressed, as my Aussie friends would say. Of course, STAY HOME is even shorter and simpler and decidedly more powerful, if a little authoritarian.

3. It is (often) clever. Like quarantini and coronita and covidiot (a person who disregards health and safety guidelines). When we play on words or conjure up something else that is familiar and concrete, we give our audiences something to grasp on to. Abstract concepts are, well, abstract. They are slippery little eels that most of us just can't remember.

Speaking of clever, I have to say that one of my favourite new words is isochat. This was coined by my friend, the writer Curtis Gillespie. There's also fattening the curve, something Murray Katz, an Edmonton gardener, came up with to describe the transformation of his body as a result of overeating and not exercising. (Who knew those Edmontonians could be so witty?)

Remember this:
For maximum communications punch, make sure your messaging is consistent, concise and – if you can manage it – clever.

And stay safe and healthy, everyone!
Words