Clarity is convincing.TM
You know how all companies seem to market themselves using the same words? "Results-driven, solution-oriented, whizz-banging blah, blah, blah..."
 
What I do is help engineers, lawyers, architects and other professionals figure out what really makes them unique and how to say it with a clear, human voice.  
 
As a result, their marketing materials — websites, brochures, proposals and presentations — cut through the clutter and stand out from the competition.
---
Verve Communications is a boutique consultancy dedicated to helping professionals communicate clearly and convincingly with their target audiences.
Verve helps build your brand, your revenue and your in-house capacity to deliver a coherent, compelling message.
---
Latest blog post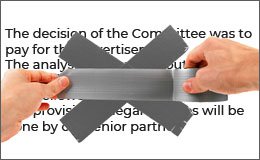 Duct Tape To The Rescue
October 19, 2018
The day before heading off to Peru, I made the last of many trips to my local Mountain Equipment Co-Op to buy an essential piece of gear – trekking poles.
II was pretty stoked by these poles. Aside from making me feel like a real hiker, they boasted all kinds of fancy-sounding and important-seeming qualities: lightweight, EVA grips; breathable, moisture-wicking straps; and interchangeable, non-scarring rubber "Tech Tips."